Carmen Elizabeth Juanita Echo Sky Brava Cortez is the female protagonist of the Spy Kids series. She is an agent of the OSS's Spy Kids Division, the daughter of Gregorio and Ingrid Cortez, and the older sister of Juni Cortez. She is one of the two main protagonists of Spy Kids and Spy Kids 2: The Island of Lost Dreams, the tritagonist of Spy Kids 3-D: Game Over, and a supporting character in Spy Kids: All the Time in the World.
Appearance
Carmen has brown eyes and long brown hair. She is slightly shorter than average height- she is taller than her brother in the first three movies, but he is taller in the fourth and final.
History
Spy Kids
In Spy Kids, Carmen's main concern is with reluctantly babysitting her brother, Juni Cortez. She is usually mean to him and calls him names. However, underneath her abusive exterior, Carmen is hiding secrets of her own: she skips school, and has to wear diapers at night due to having problems with bed-wetting. She is desperate to keep both of these problems secret, especially from her brother. For most of her life, Carmen had no idea her parents were secretly spies. Carmen and Juni discover the truth about their parents when they find that their parents have been kidnapped. Initially at odds with each other, with Juni even going so far as to retaliate to Carmen's treatment of him by calling her "diaper lady" (He claims he has known this secret forever, and was sworn by his mother never to say so), their relationship with each other improves during their adventure. This is partially because Carmen speaks with her uncle Machete, who lets her know that he had the same sibling rivalry with his younger brother, Carmen's father Gregorio (Machete actually says about his brother the exact same thing that Carmen said to her friend about Juni). Carmen also adopts a stronger value of family unity, and insists that if any Cortezes become involved in espionage, then of all of them should.
Spy Kids 2: The Island of Lost Dreams
In Spy Kids 2: The Island of Lost Dreams, Carmen has matured and treats her brother far better than she used to. However, conflict still arises between them from a romantic interest Carmen develops in Gary Giggles and never sided with Juni since she met Gary. Juni tries to convince Carmen that Gary will be trouble, but Carmen doesn't listen as she keeps telling Juni she doesn't like him, but Juni thinks she is lying after she accidentally reveals a million pictures of him. Later, Carmen, after a conversation with Gary's sister Gerti, changes her mind about Gary and convinces Gerti to turn against her father, Donnagon Giggles, who is hatching an evil plot for world domination. She punches Gary in his face and decides to side with Juni, "but just this once".
In the non-canon post-credits scene, she and Juni at the end of movie during the credits were undercover and had to perform to a large group of audience. The whole audience were cheering for Carmen. She says she can't go on because she can't sing so Machete gives her a miracle microphone that could make her sing very good. Machete also gives her a belt that would make her dance like Britney Lopez while Juni got a guitar that would make him be able to play like Angus Van Santana. The tools given to them were under the control of Machete himself. Carmen sings and dances really good causing the crowd to go wild the whole time. The song she sang was Isle of Dreams. When the performance was over Machete said that his controller didn't have any batteries meaning that Carmen sang and danced on her own without any problems which was surprising to her.
Spy Kids 3: Game Over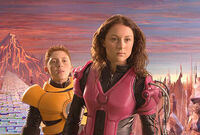 In Spy Kids 3-D: Game Over, Carmen has been missing. Juni says he hasn't heard from her since last Christmas. Carmen has become an experienced hacker and goes on a mission to shut down the evil Toymaker's video game, Game Over, which possesses its users. However, she only makes it to Level 4 before the Toymaker kidnaps her and holds her prisoner and her mind is still in the game. Juni comes to her rescue, and they continue on her quest to shut down the game. Carmen is absent for half of the movie, and she only appears near the film's climax. Carmen doesn't like the idea of having Juni's new friends follow them, but she becomes okay with it eventually because she gets a little crush with Rez. At the end, she and Juni call their whole family, and then they team up and defeat The Toymaker.
Spy Kids: All the Time in the World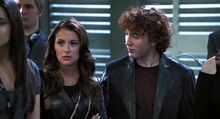 In Spy Kids: All the Time in the World, Carmen is seen assisting the new younger Spy Kids and she's still in the OSS without Juni, but he comes back and assists the new Spy Kids and her step-cousins, Rebecca and Cecil on their quest. The bickering between the two grow, as Carmen and Juni fight about being glad the other stayed/left. She is upset because Juni never called or told her where he was. He said he tried to strike out on his own and struck out. He continued to say he left because he thought that it wouldn't be cool to keep working with his sister. Carmen replies that was what would have made him cool. At the end, they become co-leaders of the new Spy Kids program.
Personality
In the beginning, Carmen was bossy and impatient. For most of her life, she had no idea her parents were secretly spies. Her main concern was with her little brother Juni, whom she felt she was unfairly forced to babysit. She responded by treating him harshly. She was also hungry for adventure, thus leading her to skip school. However, during the time their parents were captured, the two siblings bonded and formed a rapport of mutual respect. On the same adventure, Carmen was also influenced by her uncle Machete, who had the same problem with his younger brother Gregorio, and developed a sense of family, insisting that if any Cortezes become involved in missions, then all of them should. She realized that taking care of her younger brother was something that families should do for each other and started to concern constantly about Juni's welfare, though she still teases him, albeit less harshly and more playfully. Since then, Carmen is now cool, collected and levelheaded, and approaches matters cautiously. Of the two siblings, she's the more competent one and is in charge of laying out the siblings' plans and strategies, often taking the role of a leader; at the same time, however, she realizes she makes mistakes, and will apologize when she's wrong. Compared to her younger brother, Carmen is confident, in-command, honorable and very opinionated. Highly-skilled and motivated, she is driven and very serious about her work. However, she's not a total workaholic, and there are times when she can be as juvenile as her brother, or when she's crushing on a teenage boy.[1][2]
Abilities
Carmen is seen displaying amazing feats of gymnastics and martial arts, and is shown to be quite good in hand-to-hand combat. She is also good at stealth and infiltration. She is shown to be very intelligent and knowledgeable, and is very good at problem solving. She is also a computer expert, and has brilliant skills in computer hacking as seen in Spy Kids 2, and was even referred to as the best hacker in the OSS.[1][2] She appears to be adept in flying small, even experimental, aircraft.[3] After passing through the treasure room, she gained the ability to speak telepathically with her brother Juni.[1]
Relationships
Juni Cortez
Originally, the two had a competitive relationship that did not leave them on good terms. Carmen constantly called him names and putting him down with Juni not being able to do anything about it. Eventually it comes to a point with Juni calling Carmen a name. Not long after, they worked out their problems while fighting their doppelgängers.
After the first movie, their relationship had drastically improved with the two working together well and both willing to do anything to protect each other.
Gregorio Cortez
TBA
Ingrid Cortez
TBA
Isador "Machete" Cortez
TBA
Valentin Avellan
TBA
Helga Avellan
TBA
Gary Giggles
Carmen has a crush on Gary Giggles, and even believes he could change him. After he tried to attack her brother, she changes her mind and rejects him. At the end of Spy Kids 3, it could be implied that they have a mutual crush.
Gerti Giggles
TBA
Fegan Floop
TBA
Felix Gumm
TBA
Marissa Wilson
TBA
In other media
Comics
Spy Kids Adventures book series
One Agent Too Many
TBA
A New Kind of Super Spy
TBA
Mucho Madness
TBA
OSS Wilderness
TBA
Mall of the Universe
TBA
Spy TV
TBA
Superstar Spies
TBA
Freeze Frame
TBA
Spring Fever
TBA
Off Sides
TBA
Spy Kids Learning Adventures game series
The Underground Affair
TBA
The Man in the Moon
TBA
The Candy Conspiracy
TBA
The Nightmare Machine
TBA
Quotes
"What would you do without me?"
—Carmen, Spy Kids
"Oh shiitake mushrooms..."
—Carmen, Spy Kids
"You're strong, Juni! You're strong!"
—Carmen, Spy Kids
Trivia
Carmen's favorite meal is a Big Mac and french fries from McDonald's.
In Spy Kids it's revealed she has a bed-wetting problem and wears diapers to bed because of it. It is unknown if she still needs them during the later movies, or if she grew out of it.
When Carmen panics, she usually says: "Oh shiitake mushrooms." This is another 'way' of saying the 's' word without sounding too vulgar. Carmen also says it during her fight with Gary Giggles. The line itself came from her portrayer Alexa PenaVega, and Robert Rodriguez loved it so much, he used in three out of the four films.[4]
Carmen and Juni's ages has been said multiple times, albeit from semi-official sources, but nothing official has been said.

In the August 1999 cast draft[5] and April 2000 revised draft[6] of Spy Kids and the April 2001 issue of Disney Adventures, they were said to be 9 and 6, but in the novelization and storybook, their ages appeared to be solidified at 10 and 8. The closest to an official confirmation is when Gregorio and Ingrid are said to be married for almost a decade in the first film.
In a deleted scene of Spy Kids 2, "Grandpa Lays Down the Law", Ingrid states that she and Gregorio have been married for 12 years, likely putting Carmen's age at 12 in the second movie. However, since the scene was cut, its canonicity is up for debate.
In the Adventures books, their ages are said to be 12 and 10.
References