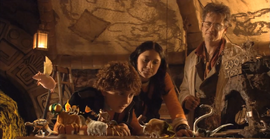 Romero's Zoo Two is the following miniature zoo to Romero's Zoo. Romero explained that he mixed up two different test tubes and created hybrid species.
Appearance and Description
It is shown as a brown structure with window bars and a portcullis with a lever next to it. The sign on top says "ZOO TOO" with 'too' instead of 'two'. It contains creatures which are made of two animals and they include horse-flies, catfish, spider monkeys, bullfrogs, slizzards, sheepdogs, tiger sharks, sporks and turtleroos.