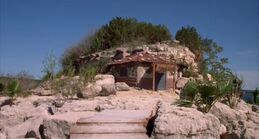 The
Safe House
is a secret safe house used by the Cortez family.
Appearance
The safe house is a small building on an island that looks run down on the outside but the interior is actually a luxury-living space and mission center.
History
Spy Kids
Carmen and Juni Cortez were sent to the safe house after Ninja Thumbs attacked their home.
Gallery
Trivia
Juni states that the outside of the safe house like an outhouse.