Spy Kids (stylized as SPY kids) is a 2001 American spy adventure comedy film written and directed by Robert Rodriguez, produced by Elizabeth Avellan and Rodriguez, and starring Antonio Banderas, Carla Gugino, Alan Cumming, Teri Hatcher, Cheech Marin, Danny Trejo, Robert Patrick, Tony Shalhoub, Alexa Vega, Daryl Sabara, and Mike Judge.
The first installment in the Spy Kids film series, the film was theatrically released in the United States on March 30, 2001 by Dimension Films.[1] It was a critical and commercial success, grossing over $147 million worldwide.[2] Three sequels were released: The Island of Lost Dreams in 2002, Game Over in 2003, and All the Time in the World in 2011.
The film was nominated for Best Fantasy Film at 28th Saturn Awards, but lost to The Lord of the Rings: The Fellowship of the Ring.
Plot
Ingrid and Gregorio Cortez are rival spies who fall in love. They retire and have two children, 12-year-old Carmen and 9-year-old Juni. They work for the Office of Strategic Services (OSS) doing desk work. The children have no idea of their parents' previous career. Ingrid and Gregorio are called back into the field when agents go missing. The children are left in the care of Uncle Felix Gumm. Gregorio suspects that a kids' TV show star Fegan Floop has kidnapped the agents, and mutated them into his "Fooglies," creatures on his show.
They are captured by Floop's "Thumb Thumb" robots whose arms, legs, and head are made of thumbs, and taken to Floop's castle. Felix is alerted to the parents' capture, activates the fail-safe, tells the children the truth, and that he is not their uncle. The house is assaulted by Thumb-Thumbs, and the children escape alone on the NIX Super Guppy that's set to auto-pilot to a safe house . At the safe house, Carmen unlocks the door using her full name, and the children learn of their parents' past as they decide to rescue them.
Inside of Floop's castle, he introduces his latest creation to Mr. Lisp small robots in the shape of children. He wishes to replace the world leaders' children with these super-strong robots to control the world. The androids are "dumb", and cannot function outside of their inherent programming. Lisp is furious, demanding usable androids to sell to his clients. Floop along with his second-in-command Alexander Minion interrogate Gregorio and Ingrid. Floop demands the 'Third Brain', but Ingrid has no idea what he's talking about. Gregorio claims that he destroyed the brain years ago. Thinking the brain must be with the children, Floop sends his minions after them. Gregorio reveals to Ingrid the truth about the Third Brain. It was the codename of a project back when he worked in the science division of the OSS. It was to house the skills of all of the world's best super spies. The project was deemed too dangerous, was scrapped and the materials to be destroyed, but Gregorio couldn't destroy the brain.
Back at the safe house, the kids are visited by Ms. Gradenko. Gradenko says she works for the OSS, and is there to help the children. Gradenko wants the Third Brain, but Carmen does not know anything. Gradenko orders the house to be dismantled, and Juni sees Thumb-Thumbs outside destroying the submarine. With Gradenko's intentions revealed, Juni accidentally exposes the Third Brain, and a chase ensues with Carmen and some henchmen with BuddyPacks. Carmen eventually recovers the brain, and she and Juni escape the Thumbs.
Carmen realized too late that the bracelet Gradenko gave her was a tracking device, and she and Juni are attacked by their robot counterparts . Although he tries, Juni cannot destroy the Brain, and the androids got it as they fly away. With the Third Brain, Floop can achieve his goal, but he wishes to continue his children's show. Minion has different plans, and takes over, locking Floop into his "virtual room." The kids receive reluctant help from Gregorio's brother Isador "Machete" Cortez when they come to his spy shop, steal some of his gear, and take his spy plane, the RX Express, to fly to Floop's castle. Juni crashes the plane into the water, and the two swim into the castle. Minion takes Ingrid and Gregorio to the "Fooglilizer." Gregorio reveals that Minion used to work for the OSS, however Minion was thrown out thanks to Gregorio turning him in, when discovering Minion's intent to input his own ideas concerning the Third Brain.
Juni rescues Floop, and the three of them head to the control room. Floop theorizes he can reprogram the androids. They trap Minion on the Fooglilizer and, confronting Lisp and Gradenko, the family are beset by 500 robots. Machete busts through the window, and joins the family to fight. Floop resets the androids. With the children on their side, the family heads home.
With advice from Juni, Floop introduces the android children on his show. The family's breakfast is interrupted by Devlin who has a mission for Carmen and Juni. Carmen accepts on one condition, that they work as a family.
Cast
Mike Judge as Donnagon/Donnamight
Richard Linklater as Cool Spy
Guillermo Navarro as Pastor
Johnny Reno as Agent Johnny
Shannon Shea as FoOglie #1/Flower
Norman Cabrera as FoOglie #2/Tall & Skinny
Trant Batey as FoOglie #3/Too Too
Andy W. Bossley as Brat
Jeff Dashnaw as Brat's Dad
Kara Slack as Carmen's friend
Ermahn Ospina as Cab Driver
Emilio Navarro-Mackissack as Excited Kid at Playground
Evan Sabara as 'Intruder' Spy Kid
Rachel Duhame as President's Robot Daughter
Houston Hooker as Lisp's Robot Son
Addisyn Fair as Baby Carmen
Louis Black as Financier
Charles Ramirez-Berg as Financier
Dick Clark as Financier
Steve Havens as Financier
Roberto Santibáñez as Financier
Julio Villarreal as Spy Driver
Rebecca Rodriguez as Spy Bridesmaid
Patricia Vonne as Spy Bridesmaid
Angela Lanza as Newscaster
Production
The idea for Spy Kids started in 1994, but Robert Rodriguez held off on making the movie because of the special effects he needed to incorporate into the story. Rodriguez explained, "I felt like it was going to be a big movie, effects-wise, and I didn't have any effects experience back then. I wanted to learn how to do all those things." The effects he used in the movie overall are 500 effects shots, which earn him additional credit in the credits for special effects. The lack of family movies was what fueled Rodriguez's desire to make Spy Kids and called family films "the neglected genre". Rodriguez knew he wanted Spy Kids to be something more than a typical family film and stayed away from the "root canal experience" that family films often times deliver to adults because filmmakers cater to children and forget about the parents sitting in the movie theaters. Rodriguez says he set out to deliver a strong family message at the core of Spy Kids and to make his movie as entertaining and imaginative as possible. He stated that he wanted to restore a more magical element in children's movies adding that is why "the whole movie feels like a little kid's creative dream. I really wanted it to make it like a child created this movie."[3][4]
Rodriguez's favorite movie as a child was Escape to Witch Mountain, and admits that film, Willy Wonka and Chitty Chitty Bang Bang influenced and inspired him while he was working on Spy Kids.[3] Spy Kids was also inspired by Rodriguez's vignette in the 1995 film Four Rooms, which has four parts, each written and shot by a different director.[4] Rodriguez's portion featured Antonio Banderas, but it also was about a family, whose costumes started the thought process that lead to Spy Kids. When filming Four Rooms, Rodriguez cast Banderas first, and then looked for the best child actors he could find. The mother was hired last and picked based on her resemblance to the kids, which was why the family in that film had an Asian mother, as one of the children was Asian. Rodriguez was in the exact same situation with Spy Kids when casting the family members in that film, specifically the two main protagonists, and was adamant that he wanted actors who were at least half Latin in background. By late September 1999, he had narrowed down his choices to Daryl Sabara and Alexa Vega. Sabara is a redhead so the mother had to be one, too, hence Carla Gugino's dye job.[5]
Rodriguez started writing the script at the end of 1998, and turned it in in 1999. Changes such as altered lines and new dialogue were made until release.[4] Although Rodriguez had the Spy Kids idea in mind for years, actual production wasn't planned to begin until October 1999, which was then pushed to March 2000. During the time between the original 1999 start date and the new 2000 start date, Rodriguez travelled to Chile and the Bahamas to shoot second unit photography for Spy Kids. [6] 
Filming began in March 2000, ran for 67 days and wrapped in late July 2000.[7]
Music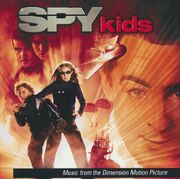 The film score is written by John Debney and Danny Elfman, with contributions from a variety of others, including director Robert Rodriguez and Marcel Rodriguez. Among Elfman's contributions is "Floop's Song (Cruel World)", which is performed by Alan Cumming. Los Lobos covers the Tito Puente song, "Oye Como Va" (adapted as "Oye Como Spy" by David Garza and Robert Rodriguez). The song was nominated for "Outstanding Song in a Motion Picture Soundtrack" at the 2002 ALMA Awards. The closing theme, "Spy Kids (Save the World)", is performed by the Los Angeles indie pop band, Fonda.[8]
The score won an award at the ASCAP Film and Television Music Awards.
Track listing
"Cortez Family"
"My Parents Are Spies"
"Spy Wedding"
"Spy Kids Demonstration"
"Parents on Mission"
"Kids Escape House"
"Pod Chase"
"The Safehouse"
"The Third Brain"
"Buddy Pack Escape"
"Oye Como Spy"
"Floop's Song (Cruel World)"
"Spy Go Round"
"Minion"
"Sneaking Around Machetes"
"The Spy Plane"
"Floop's Castle"
"Final Family Theme"
"Spy Kids (Save the World)"
Release
Box Office
Spy Kids opened theatrically in 3,104 venues on March 30, 2001, earning $26,546,881 in its first weekend and ranking first in the North American box office.[9] It held the number one spot for three weeks before being toppled by the second weekend earnings of Bridget Jones's Diary, which was also released by Miramax.[10] The film ultimately grossed $112,719,001 in the United States and Canada, and $35,215,179 overseas for a worldwide total of $147,934,180.[2]
Critical reviews
Spy Kids received high critical acclaim upon release. On Rotten Tomatoes, it has a 93% approval score based on 126 reviews and an average rating of 7.2 out of 10. The site's critical consensus reads: "A kinetic and fun movie that's sure to thrill children of all ages."[11] Metacritic reports a 71 out of 100 score based on 27 reviews, indicating "generally favorable reviews".[12]
Roger Ebert of the Chicago Sun-Times gave it 3.5 out of 4 stars and called it "a treasure". He wrote, "Movies like "Spy Kids" are so rare. Families are often reduced to attending scatological dumber-and-dumbest movies like "See Spot Run"--movies that teach vulgarity as a value. "Spy Kids" is an intelligent, upbeat, happy movie that is not about the comedy of embarrassment, that does not have anybody rolling around in dog poop, that would rather find out what it can accomplish than what it can get away with."[13] Mick LaSalle of San Francisco Chronicle wrote, "It's entertaining and inoffensive, a rare combination in kids' films, which are usually neither."[14] Lael Loewenstein of Variety observed, "A full-blown fantasy-action adventure that also strenuously underscores the importance of family, "Spy Kids" is determined to take no prisoners in the under-12 demographic, a goal it sometimes dazzlingly achieves. Robert Rodriguez's film, in which two kids become real spies to save the world from a mad genius, fulfills kids' empowerment fantasies and features enough techno-wizardry and cool f/x to satisfy those weaned on videogames."[15]
Home Media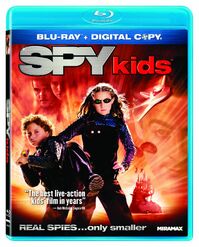 The film was released on VHS and DVD in the United States on September 18, 2001. The film is also available to download on iTunes. A 91-minute Blu-ray re-release was released on August 2, 2011 to coincide with the fourth film.
Trivia
As an homage, director Robert Rodriguez named Gregorio, Carmen, and Juni after members of his family.
Ms. Gradenko's name is a reference to a song by The Police on their 1983 album, Synchronicity.
The Thumb Thumbs are based on a drawing that Rodriguez himself drew when he was 11 years old. He also "got to put all his childhood dreams" into creating the Safe House, the N-I-X Super Guppy and the RX Express for the protagonists in Spy Kids.[3]
Angie Harmon was considered for the role of Ingrid, which eventually went to Gugino. Harmon's role on the 1990 TV Series Law & Order prevented Harmon from accepting the role in the film.

Another actress that was considered for the role was Kelly Preston. Gugino took on the role of Ingrid when Preston became unavailable, having just given birth to her second child Ella Bleu.[16][17][4]

The San Diablo aerial view is actually an aerial view of Santiago de Chile.
Spy Kids was the last Rodriguez movie shot on film. Post-production was done at George Lucas' Skywalker Ranch where he introduced Rodriguez to High-Definition digital filmmaking.
Rodriguez edited Spy Kids and its sequels in an editing studio in his home that he calls his "garage".[18]
Spy Kids costed only $36 million dollars to make, and Rodriguez knew how to make the film for that budget, despite a third of the movie being effects. In an interview with The Guardian, Rodriguez commented on his budget savvy approach to film-making and stated, "The first person you usually hire on an effects-based movie like this is an effects supervisor. I didn't – I wanted to figure out how to do it myself. It's just a case of being more creative: it looks like an expensive movie, but it's all magic tricks. I edited it in my garage, and it had to feel personal or it would be like one of those studio-made kids' movies that are just awful. It's a big home movie, basically.".[19]
A special edition with a deleted scene was released to theaters on August 8, 2001. It was also released with Kellogg's products.[20] There were plans to release the special edition to DVD, and it would've included a director's commentary, interviews and deleted scenes that didn't make it to the special edition, but it was cancelled for unknown reasons, despite the fact that the commentary and interviews were already recorded for it.[21] However, that version is available on the film's Blu-ray re-release, albeit with only one deleted scene.
Gallery
Click here to view this page's gallery.
Other
A list of the mistakes and continuity errors in this movie can be found here.
Videos
External links
References
Community content is available under
CC-BY-SA
unless otherwise noted.