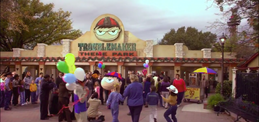 The Troublemaker Theme Park is a theme park named after Troublemaker Studios, the company that produces the Spy Kids franchise. The park's owner is Dinky Winks.
Appearance
History
Spy Kids 2
Alexandra, the daughter of the President of the United States, was visiting the park one day and wanted to go on its newest ride: the Juggler, only to sabotage the ride by swiping the override key, causing it to get stuck just after she got on. Carmen and Juni, as well as Gerti and Gary Giggles, were visiting the park during that time, and were called to action when Alexandra got stuck on the ride. The moment Juni got up to get her down, she revealed to him that she stole the Prototype Transmooker from her father's office. The Giggles Spy Kids got her down and Alexandra was punished for stealing the device.
Community content is available under
CC-BY-SA
unless otherwise noted.